"I would say the next collection is about evolution - that's my key word," says Danxia Liu, as she takes time out of her busy schedule in the run up to LFWM. When asked about what we can expect today for AW'19, she continues, "This concept of evolution also refers to the evolution of masculinity generally, our male customer and the evolution of the brand itself. We have been talking about this soft, emotional masculinity since its inception and now we want to celebrate it."
Danshan, menswear duo Danxia Liu and Shanpeng Wong, are based at the Alexander McQueen Sarabande Foundation in London where they will present their AW'19's collection. Showing at both Shanghai and London, the brand has a growing reputation, securing five global stockists so far, and keeps production in Southern China, working with a small family-run factory in Guangzhou which Liu says is: "willing to grow and develop" with them. This growth includes new developments for AW'19, retail collaborations and the lure of London.
AW'19
"If you look at mens fashion today, it hasn't moved on that much. Feminism has evolved so much and fashion is also moving on within society to reflect these developments," says Liu going into detail on the brand's concept of evolution. "It's about men being functional and looking cool, but there are a lot of more layers to the male in terms of lifestyle — we choose to reflect this in our designs."
According to Timothy Parent, a Shanghai-based creative consultant, this is a clever strategy. "Brands must evolve to stay relevant. Making evolution a core concept of a brand is very clever because it renders this fundamental aspect of fashion as an inextricable part of a brand's DNA. Danshan is forcing itself to evolve, but as the changes are constant and gradual, it doesn't feel contrived."
"Exclusive products and crossovers are crucial for retailers looking to distinguish themselves in today's crowded market."
Retailer collaborations
The brand recently collaborated with the likes of Farfetch and Lane Crawford, creating innovative collections that allow the designers to focus on developing their message and a new way of thinking commercially. "As we don't really have these more accessible items in our categories, like t-shirts, bottoms etc, it was a really good exercise as they want wearable, saleable pieces in keeping with our aesthetic. They give us the space and freedom to interpret their brief so it was really fun."
Parent believes that retailers such as Farfetch and Lane Crawford are choosing to work with brands like Danshan because they have a point of view that is unique, but are also more flexible than larger brands. "Exclusive products and crossovers are crucial for retailers looking to distinguish themselves in today's crowded market, so independent designers not only offer a younger client base but also a way in which retailers can also materialise their unique point of view," he says.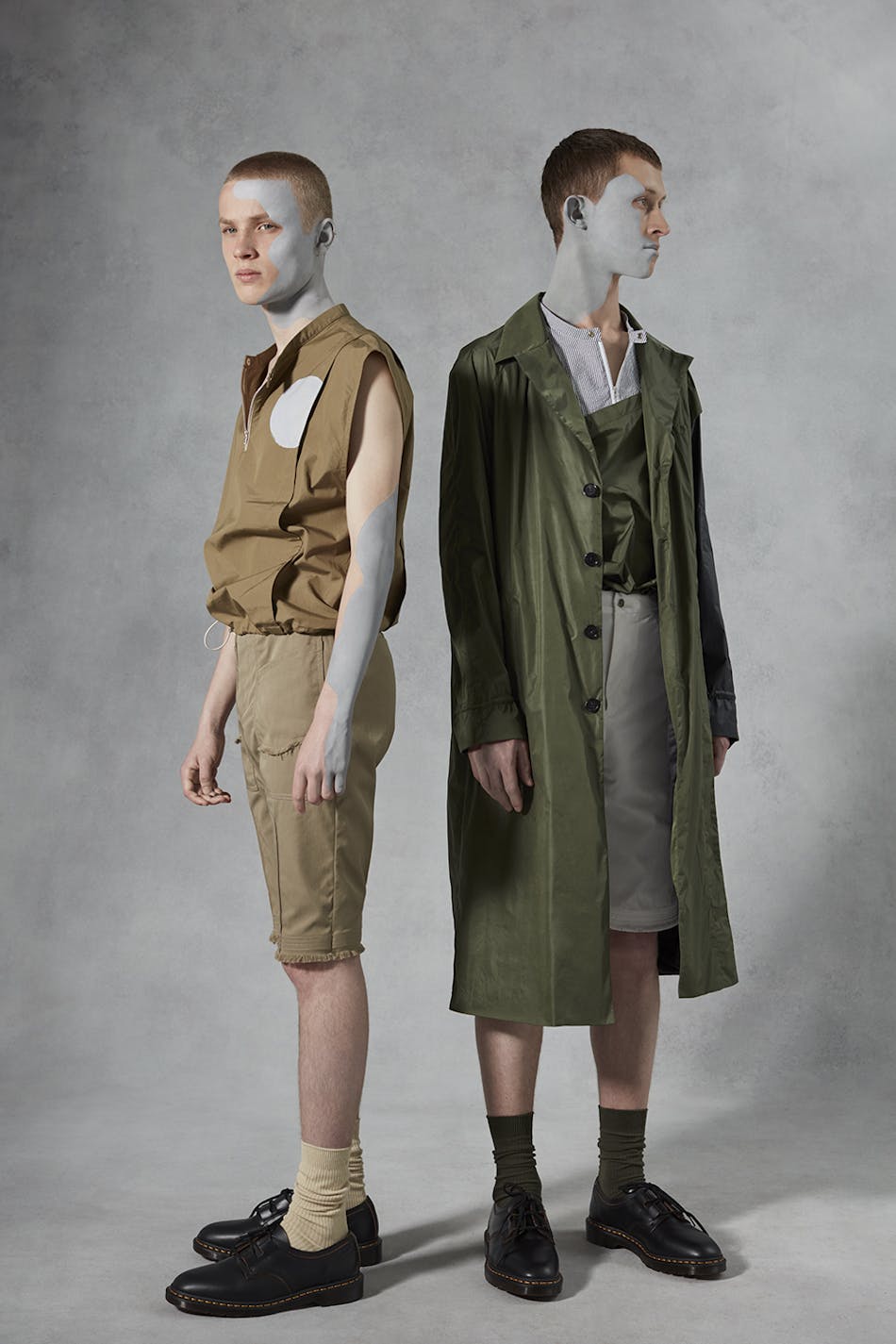 LFWM
With experience of both Shanghai and London Fashion Weeks, Liu is positive about the benefits of the LFWM structure. According to the designer it is becoming increasingly progressive: "For me, the structure hasn't changed much - it's still packed and all vying for attention - but it's interesting that they are more open-minded in terms of positivity, promoting positive fashion, animal rights and so on. It encourages young designers how to be ethical and make that positive impact."
LFWM schedule is often seen as the best stage for designers looking to establish themselves globally. "It has earned a reputation as a platform for young and innovative design talent and although the aesthetics are streamlined it is certainly not homogenous, meaning most buyers and media can find something new and innovative," says Parent, adding that many influential figures from the fashion industry attend the event and those who don't attend are at least "keeping an eye on the platform for emerging talents."
Location
Given the current trend for Chinese designers to start brands back on the mainland, the designer is adamant that London is the best city for the duo's brand to be based. "I can understand why some Chinese designers go home," she says. "But we get a lot of support here, contact with the industry and access to mentorship and access so for us it's great. It also means we can be more creative, there aren't any boundaries, so for me anyway that's vital."
Living in Shanghai for over six years, Parent, advocates a fairly balanced approach, tipped in favour of the domestic market. "Shanghai may never replace the major fashion capitals, but China has a huge consumer market and a brand like Danshan has a competitive advantage as they are local. Danshan shouldn't focus on just China, but they should remain focused on the Chinese market while they establish an international presence."
Suggested Reading