When the practice of dead stock destruction hit headlines around the world this year, after Burberry's 2017 annual report revealed the British heritage brand had burnt £28 million worth of unsold goods, what went largely unreported by the media was the fact that Burberry had been publicly sharing this information — and working diligently to find a solution — for years. At the heart of this solution is another British label, albeit one slightly less well known, Elvis & Kresse.
What began as an environmentally conscious quest to salvage decommissioned fire hoses from London's fire brigades has since become an industry leading business which is finding innovative solutions to fashion's textile waste crisis. "When we were talking about this 10 years ago, people thought we were freaks," laughs Kresse Wesling, one half of the brand (the other is her partner, whose nickname is Elvis). "Now, people think it's great. They don't think we're radical leftist communists — which is really good — because this needs to become mainstream."
Elvis & Kresse launched men's and women's bags and accessories in 2005, and with what was considered at the time to be a radical business model: transforming waste materials into luxury goods and then donating 50 percent of the profits to charities, it is now successfully and profitably subverting capitalism one landfill-bound scrap at a time. "Upcycling, which is what [Elvis & Kresse] do, is a strange thing in this day and age," says Orsola de Castro, co-founder of non-profit organisation Fashion Revolution. "The way that they work is very human, very instinctual, and very effective."
"It's a creative solution for an environmental challenge," de Castro continues. "We're not using many creative solutions at the moment — we are investing more in technological solutions — which are quite far from being effective." It seems as if — as awareness around the industry's environmental impact grows — retailers and consumers are finally beginning to understand the method to their madness. And, with one garbage truck of textiles is being sent into landfills and incinerators every second (according to the Ellen MacArthur Foundation) it is absolutely necessary.
From fire hoses, the pair began scouring landfill sites to salvage parachute silk, auction banners, printing blankets and tea and coffee sacks — discarded products which have been given new life lining bags or packaging products. "What Elvis and I do in that research and development phase is quite unique," says Wesling. "We will see something that no one else has seen and we'll be relentless in solving that problem."
"This is exactly what is missing: a biodiversity that allows big brands to live alongside and help to promote the wellbeing of smaller brands."
Around four years ago, when the Burberry Foundation approached Elvis & Kresse to help solve their excess leather issue, the pair deemed it a challenge too great. "We spent two years just trying to work out the best way to work together," explains Wesling. "Burberry cares about every single detail, and that's why fundamentally this partnership will work: the amount of thought that went into it and the level of commitment on both sides."
The five year collaboration has the ambitious goal of transforming 120 tonnes of Burberry leather offcuts into new Elvis & Kresse products, with half the profits going to renewable energy organisations. "In its first few months, the partnership has already rescued approximately two tonnes of waste and inspired over 1,000 potential 'makers' about waste revaluation," reads Burberry's 2017 annual report.
Pairing a mega-brand like Burberry with a boutique business like Elvis & Kresse is a clever sustainability strategy, believes de Castro. "This is exactly what is missing in the fashion industry: a biodiversity that allows big brands to live alongside and help to promote and guarantee the wellbeing of smaller brands," she says. "If we look at nature, we see little animals performing functions on bigger animals to help them, so this is a wonderful way that they can give back."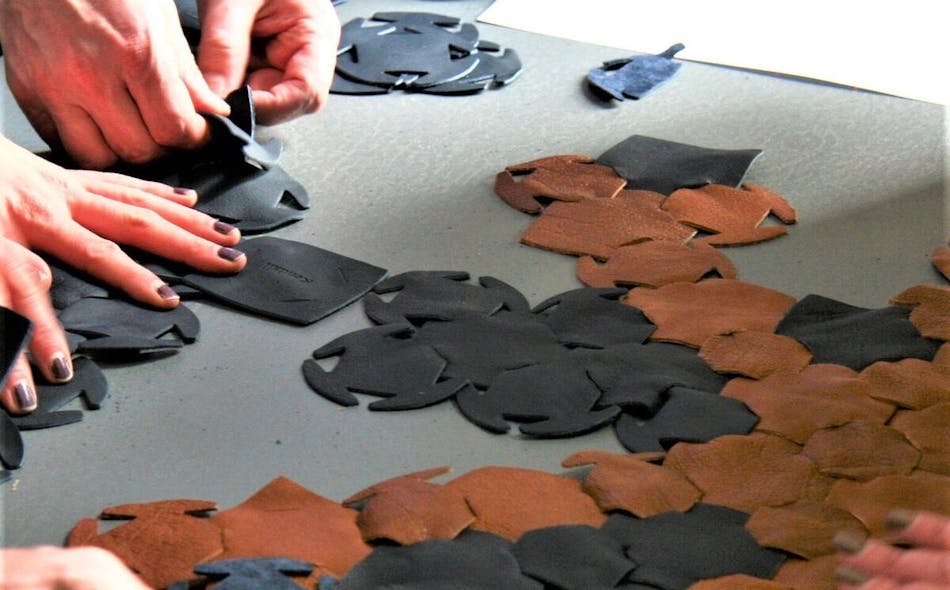 Elvis & Kresse's retail strategy is as unique as their brand. Preferring to work with independent boutiques rather than department stores, they have select stockists in the UK, Europe, Dubai and Australia. "We work with all kinds of retailers, like the Turner Contemporary in Margate and independent boutiques," says Wesling. "We prefer boutiques because they understand that we don't do seasons or collections — that's not how our products are made and that's not the world we want to support."
Working with large retailers doesn't interest Elvis & Kresse, a resolve which strengthened after a successful Harrods pop-up a few years ago. "They wanted to know when we were going to produce different colourways, and we realised their business model didn't match our ethics," Wesling explains. "If that means we need to stay with independent boutiques, where someone can really communicate the message behind what we do, then that's absolutely fine with me."
"I don't think we should allow big companies to tell us what luxury is."
It's worth asking, what does it take to completely transform waste material into a luxury product? "There's no reason that any material can't be luxury," Wesling believes. "It's just how you treat it and what you decide to do with the business you're running." Elvis & Kresse is determined to redefine luxury through a lens of environmental sustainability and ethical consumption.
"For us, it's about creating something of real value, that has longevity, that is useful and classic, and doesn't cause any damage to anyone or to the environment," she says. "Does it have to be beautiful and useful? Yes. But if the price you pay for beauty is destruction somewhere, to me that's not luxury. I don't think we should allow big companies to tell us what luxury is."