In the last 12 months, the fashion landscape has undergone a much needed overhaul in regards to diversity. In fashion campaigns, on runways, and in the media, the business has woken up to the importance of representing, including and speaking to people of different ethnicities and sizes.
Behind the scenes, however, the fashion industry remains rigidly uninviting, with diversity still a huge, entrenched issue in design, buying, editorial and styling teams in the major fashion capitals. FAD, a London-based charity, works with disadvantaged youth in 16 of the city's boroughs to combat this.
On Monday, FAD's flagship programme Fashion Futures, an intensive 10 week course that teaches technical skills like sewing, pattern cutting and fashion drawing to college-age Londoners, turns 20 years old. To celebrate, FAD has partnered with Fashion Scout during London Fashion Week for 20 Years, 20 Stories, a showcase of 20 recent graduates' work.
"They're the youngest designers to ever show at London Fashion Week," says Maria Alvarez, founder and chief executive of FAD. "We are giving real opportunities to people so they can progress into the fashion industry." Indeed, the programme has laid the foundations for many fashion careers, notably, Grace Wales Bonner of acclaimed NEWGEN menswear label Wales Bonner.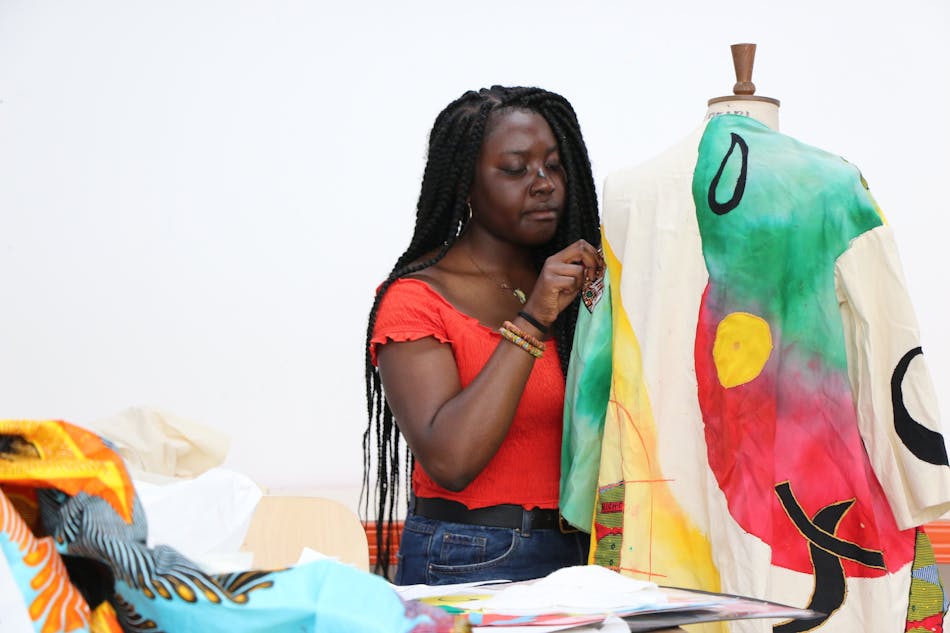 Since its inception, almost 10,000 young people have gone through the programme. Former FAD participant Philip Luu, who went on to become a pattern cutter for Tom Ford and is now freelancing for young independent brands in London, believes Fashion Futures gave him an advantage in an otherwise competitive education pathway. "I learnt so much before going into university," says Luu. "It gave me a head start — there's things you learn at university that I had already learnt with FAD, so I was really prepared," he believes.
The programme also runs mentoring facilities - in its history, 2,000 volunteers from brands including Burberry, ASOS, River Island, Karen Millen and more, have lent their expertise to the programme, supporting students through the course and beyond. "In the past five years, we have seen an increase in volunteering," Alvarez says noting a recent uptake. "More people in the fashion industry want to support the project — perhaps they think young people need more help these days."
"The fashion business has until now, been the preserve of the white middle class"
One industry professional who has been pivotal to the project is Jane Shepherdson, former Whistles chief executive, who is also credited with leading the reinvention of Topshop in the early 2000s. Shepherdson, driven by a desire to support the diversification of the industry, has been a patron and avid spokesperson for FAD for 4 years. "The fashion business has until now, been the preserve of the white middle class," she says. "It could do with the creativity that diversity brings, and what FAD is doing is absolutely necessary."
On Monday evening, Shepherdson will be part of a panel of judges choosing the winner from 20 Fashion Futures participants. But regardless of who wins, there's no doubt that FAD is providing an invaluable service that will lead to a more inclusive and diverse industry for the future. "It's opening their eyes, giving them the opportunity to create something that they never thought they could create," Shepherson says. "There are so many people in the industry who are giving their time for nothing, so it's a wonderful opportunity!"