As e-commerce has evolved, so too has affiliate marketing. The practice, in which a publisher promotes a product on behalf of a merchant in return for a commission, has been spearheaded in the fashion sector by big players like Lyst and Shopstyle. Yet, entrepreneurs such as Sylvie Lemlin still see space in the market to take on the big players by offering a more streamlined, curated platform to the global consumer — while being paid in the process.
Belgian-born Lemlin, currently based in London, started her online affiliate platform The Shopster in March 2018. It offers readers access to her colourful vision of luxury where you can buy brands like Fendi, Balenciaga, Gucci and Charlotte Olympia. If you decide to purchase you are then connected directly to the retailers and brands to complete the transaction, whereupon Lemlin receives a commission. While nothing new, affiliate marketing is being tapped by retailers to make authentic connections with new consumers via trusted ambassadors — in manys it mimics the old-fashioned "Avon Lady" model.
There are a number of affiliate networks currently in the market such as CJ, Tradedoubler and Awin, which can connect individual sites to retailers; Lemlin opted for Rakuten Marketing given its "strength in retail." Rakuten Marketing has a vast portfolio of leading retail brands in a wide range of verticals – including fashion, luxury, beauty and travel. Once a merchant and publisher are partnered through its network, it provides the necessary technology to trace and measure performance and ensure commissions are made. Sheetal Sahota, senior manager of network development at the company, says it recruits a wide variety of publisher models within its network. "Generally, for shopping and content sites, we want publishers with consistent daily website visitors or loyal and engaged users," she explains. "Many of our brands look for high quality content which will reflect their brand to the highest standard."
Rakuten Marketing organise regular networking events where advertisers and publishers can discuss partnerships in person. "I really wanted to work with an many retailers as I could that's why I joined them...Now I'm connected to more than 50 merchants," says Lemlin, who has a background in luxury affiliation and 15 years experience in e-commerce. The choice paid off — her partners now include big luxury retailers like MatchesFashion, Liberty and Harvey Nichols, as well as lifestyle stores Conran Shop and bookstore Taschen. She also features e-tailing outlet, The Outnet for discounted selections.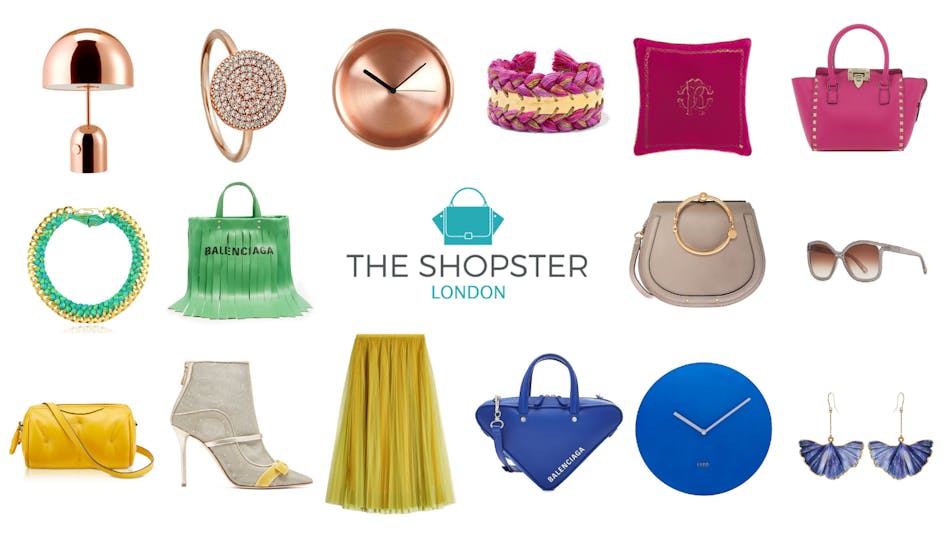 Sennait Ghebreab, buying consultant and Fashion Business BA programme leader at Istituto Marangoni suggests this model is the future of e-commerce. "E-commerce affiliate networks connect brands with affiliate programs websites that allow them to promote e-commerce related offers and sell for a commission, that will be paid to them," Ghebreab explains. "This is the perfect way to avoid any stock overbuying, that is [an issue] for traditional online resellers."
Indeed, retailers like The Outnet and MatchesFashion are pages on their websites dedicated to publisher recruitment: The Outnet wants to "promote [the site] through like-minded fashion blogs and websites that are fully functioning and visually stunning" while MatchesFashion's programme offers "competitive commission on net sales." Ghebreab goes on to add that becoming an affiliate marketer is often the best option for [new] businesses. "I think the Shopster's business formula is a good one, as this model guarantees them a predetermined percentage commission for each product they sell. Starting an online business is something a lot of people desire to do and with good reason: it can provide with a lot of freedom in terms of work schedule and where these kinds of entrepreneurs, like Sylvie, can operate," she tells ORDRE. "Despite all this positivity, the real truth is that starting an ecommerce business is certainly not easy."
Additionally, Lemlin belives that luxury brands have been slower to tap the model — getting them on board individually is proving difficult for The Shopster: "I work with brands individually but not in the luxury sector, they are not interested yet. They are still reluctant," says Lemlin. However Sahota says this model is actually an ideal way for brands to attract oversales sales: Rakuten Marketing alone connects customers with brands in over 200 countries around the globe. In fact, with Net-A-Porter it won Best Managed Global Affiliate Programme at the International Performance Marketing Awards 2018. "Last year, 40 percent of sales tracked through the UK network came from non-UK markets as borderless commerce continues to rise," she says. "In particular, our Asia-Pacific (APAC) network is seeing the fastest growth and we've also expanded our EU network as this is a key priority for many of our global advertisers."
"We are all taking information and recommendations from our peers and this is being openly leveraged in retail"
Sylvie Lemlin
Affiliate sites such as Lemlin's attest to some of shifts in technology and e-commerce that are driving the industry currently, and she observes that this has always been happening but recently consumers are becoming more aware of it. "Now you are seeing micro-influencers who aren't stars, but have 5-10,000 followers," she says. "We are all taking information and recommendations from our peers and this is being openly leveraged in retail." Petah Marian, senior editor at WGSN, adds that these kinds of site must also create a holistic view of what products are available. "They must use personalisation to ensure that the right products are being put in front of the right consumers," she believes. "Product and personalisation are key for success in this space."
Despite Lyst's obvious domination in the field, due to its integration of "personalised shopping, luxury designers and customer's data, for data inspired ad campaigns," (according to Ghebreab) the lecturer believes that new models can compete. The answer? By "solving every retailers dream: a universal cart" — a single check-out system that can be used globally. "In fashion, there are so many new players coming out every year — lasting a few years and then disappearing," she says. "By aggregating products into a universal shopping cart with a single check-out, there are multiple benefits to the e-commerce ecosystem: namely the shopper, the merchant and also the digital platform." And, unlike typical affiliate models, universal cart technology would also allow retailers to keep the customer data — a highly valuable commodity.
Suggested Reading