Paula Knorr is glamour for 21st century women. More specifically, those surrounding her - forget fictional, superficial muses. "I look at how friends of mine or females I admire dress, and what they need. I want women to be their absolute most glamorous self, but still feel as comfortable as when they wear sportswear," Frankfurt-born Knorr says, highlighting she doesn't adhere to norms, "It's practicality driven so 90% of my garments have a stretch insert somewhere, or are stretchy."
At her graduation from the Royal College of Art in 2015, Knorr's alluring aesthetic won her the ITS prize judged by Balenciaga and Vetements' Demna Gvasalia. Following that, September 2016 saw her join the prestigious NEWGEN scheme alongside Molly Goddard and Ryan Lo; "As a NEWGEN designer, you're suddenly taken as seriously as the big labels," she says, telling ORDRE that it was a pivotal moment for her brand. Since that momentous springboard, Knorr has dressed Gigi Hadid, Björk and Solange, girl-gang endorsements that suggest she is ahead of the curve.
Outsourcing proved difficult when Knorr initially launched in London, due to its competitive young designer scene, so she set up base in Berlin. "It was easier because I stood out there with stockists like Opening Ceremony. Plus, at the beginning it was good producing locally because I like talking to the people." she says, "But this year I've moved manufacturing to Poland and Bulgaria as we've grown. It's the first season we're producing there." Now the brand's based in London, designs in Berlin and manufactures in eastern Europe.
It was a natural decision to expand manufacturing, with a range of tier 1 stockists from Harvey Nichols to Galeries Lafayette - all reporting to be most popular among Middle-Eastern clients, in store and online. She explains, "My designs don't show much skin which works well for those markets."
In terms of sizing, Knorr interestingly reports her largest sizes are most popular, and the relief dress is her best-seller. "It's got a jersey back and intricate fabric on the front." she says, suggesting why it's been so well received, "The jersey pulls the fabric around the body so whatever body shape you put in there, the body reacts to the shape; it's very flattering."
"I want women to be their absolute most glamorous self, but still feel as comfortable as when they wear sportswear"
Paula Knorr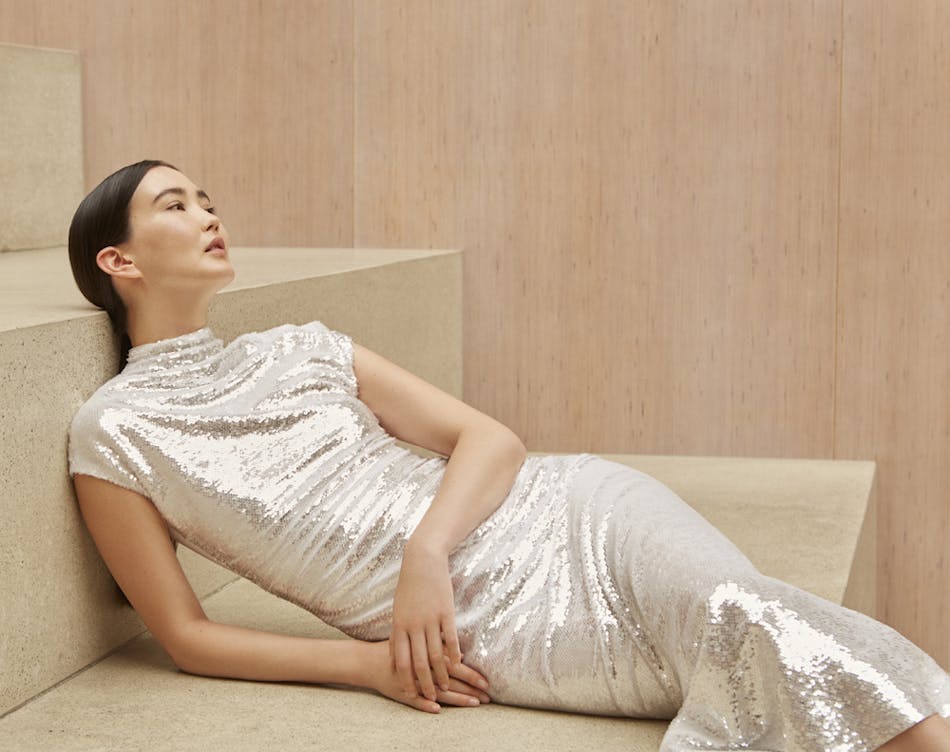 Alongside her bi-annual collections - she's on schedule for the seventh time at London fashion week in September - Knorr has recently delved into bridalwear, an evolving scene, more than ready for her glamorous and comfortable luxury.
At an age where all her friends seem to be tying the knot, Knorr is suggestively surrounded by modern-day matrimonies, "I looked at loads of wedding approaches, a lot of them my friends. There are definitely some shifts going on towards more contemporary, unique wedding wear." She says, certain that it has a lot to do with overflowing online identity and a subsequent thirst for authenticity, "I don't think those staple, Vera Wang kind of dresses are that significant anymore."
Ranging from elegantly sleek dresses to tailored trousers and co-ordinates, Knorr bridal can be worn "at a garden party, on a beach or even if you want to ride a bike to your wedding," the designer enthuses, with a brand ethos completely devoted to modern women.
Practicality runs through Knorr's collections, "I'm introducing a lot of glitter and velvet prints but I'm making sure it's all easily washable." she says, "And my handmade screen prints aren't embroidered because that can come undone easily," - a bid farewell to restrictive formalwear.