There's only a fortnight to go before the fashion month rush kicks off, and like many, Wuhan-born designer Ming Ma is engrossed in putting the finishing touches on his SS'20 collection. He may not be showing on the runway until October when the industry troupe finally heads East for Shanghai Fashion Week (SHFW), but he's gearing up to jet off to Europe where he will present at Milan's Fashion Hub before joining ORDRE's physical showroom in Paris.
Needless to say, the designer has a dizzying schedule ahead. Over the phone, Ma is buzzing with excitement, his energy reverberates down the line: "I think these opportunities [to present in Milan and Paris] will open many doors for me. It will be a great way to introduce my collections to a global audience and see how international buyers and press will respond."
Since launching his namesake brand just last year, Ma has shown two collections with emerging designer platform Labelhood at Shanghai Fashion Week. Leading regional retailers like Joyce, Lane Crawford and Beams have already been quick to snap up his fresh and feminine designs.
But launching a brand was not always on Ma's agenda: after graduating from London's prestigious Central Saint Martins under the guidance of the late Louise Wilson, a headhunter enlisted him for a senior design job with a Hong Kong-based commercial fashion firm. "I never really had plans to set up my own label," says Ma. "I didn't have that dream when I was a student, and I always felt as though I needed to work for a company, for someone else."
"It's a dynamic time to have my own label and the energy is right."
Ming Ma
Yet two years into his role, he felt the pull of China's rapidly evolving fashion landscape and decided to seize the opportunity to make his mark. "I discovered China's fashion industry was in the process of developing. It's still not well established yet, but I see a huge potential in the country in terms of the fashion market and luxury scene," Ma explains. "I just feel that it's a dynamic time to have my own label, and the energy is right."
In recent years, China has become a dominating market for established fashion houses: almost overnight, brands like Fendi, Prada, and Chloé began staging shows in Shanghai in a bid to tap Chinese shoppers' insatiable appetite for luxury; inevitably it has turned the city into a hotbed for international press and buyers. And as global eyes increasingly turn towards the region, Ma suggests that as a native he has the upper hand: "The market definitely needs the established international names to build attention, but as a Chinese designer, I have the advantage of knowing the ins and outs of the market, and what local consumers want and need. It's beneficial for me to do my shows in China right now."
Indeed Ma's collections are infused with Asian influence: AW'19 incorporated traditional Chinese jacquards in rich hues, with nods to the oil paintings of 1940s Chinese-French artist, Sanyu. But his designs also have an undeniable global appeal, which Ma puts down to studying in London for six years and mentorship from Wilson. "My cuts and silhouettes reference the West through 3-D draping and big volumes. But at the same time, I want to adapt and interpret that for a Chinese audience, so I always balance it out with light elements that have a subdued Chinese sensibility."
Last season, among his elegant column skirts, dainty bralettes and puffed sleeve tops, Ma reveals that his dresses sold best thanks to their practical and comfortable yet elevated aesthetic: "Our dresses sold really well last season, and I think it's because we focused on creating something feminine but with a strong practicality."
"As a Chinese designer I have the advantage of knowing the ins and outs of the market."
Ming Ma
This season he aims to bring that practical element to the forefront whilst offering a fresh sensual vision inspired by old Hollywood. "I want to present something more glamorous but with a sense of strength and femininity," he says, adding that the collection will emphasise colour and texture like previous collections, but hem lengths will ride much higher, allowing for an injection of sexuality. "I also love the idea of contradictions," he continues. "So it will have an element of that as well: something sexy but with a touch of innocence and girliness. I want to clash both of these elements together."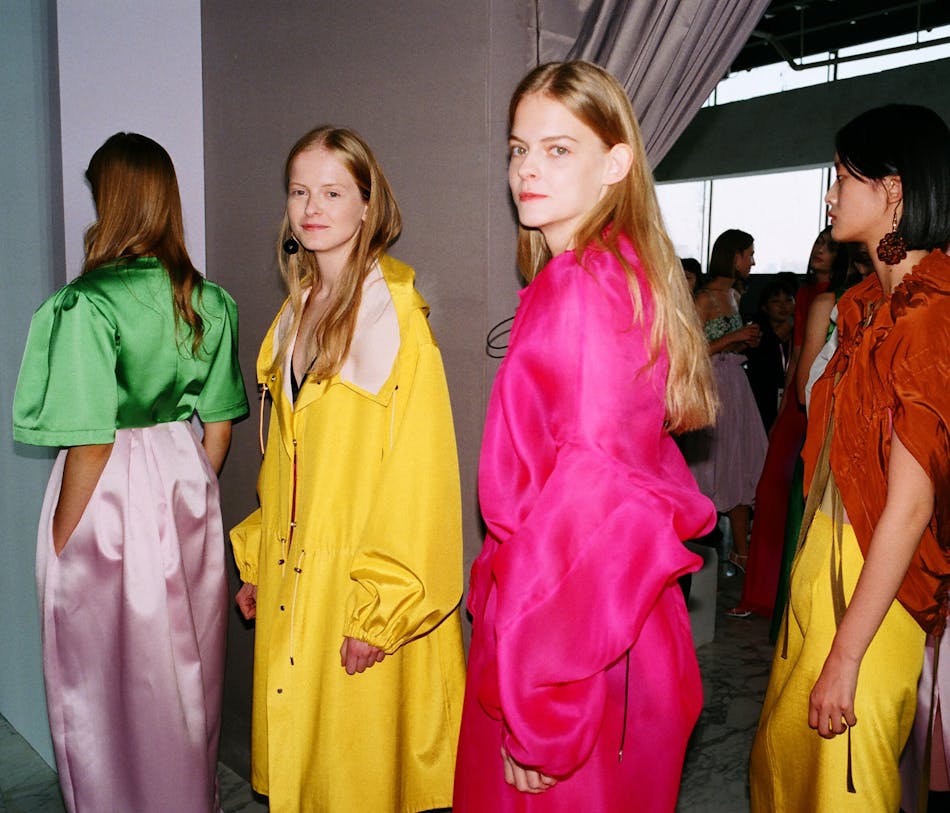 The notion of practicality will surface through a specially developed cotton-polyester blend fabric, created in collaboration with heritage Japanese textile manufacturer Toray, who will also sponsor his SHFW show. With a luminous finish, the textile resembles taffeta or silk, but Ma explains this new blend is easy to manage, perfect for global jet-setters: "[It] doesn't wrinkle easily. Traditional silk or taffeta is so fragile and you have to take care of it properly. We wanted that same luxurious finish, but with a more practical wear."
In terms of the future, the designer is adamant about building his brand steadily and is cautious about not expanding too quickly. "I think expansion will happen naturally, and I trust my instincts," he says with confidence. For now, he's focusing on the busy month ahead entering European markets, and maximising on his success at home: "I feel like now everything is happening in China, and I'm embracing that. But I also dream of returning to London one day – I would love to be able to show there, it's my favourite city."
Discover Ming Ma's SS'20 collection at the ORDRE LIVE Showroom during Paris Fashion Week – 80, rue de Turenne, open from the 27th to 3rd October." Contact [email protected] for more info and to book appointments.
The SS'20 wholesale collection will be open-to-order on ORDRE.com from the 25th September to 31st October.