With second-hand resale sites like Vestiaire Collective and The RealReal on the rise, pre-loved fashion is beginning to shake off aging stereotypes and negative connotations — no longer do we think of oversized hand-me-downs or dusty old charity stores. Now, second-hand means a second chance at finding that sold out Loewe bag from 2016, or simply a more sustainable way to consume fashion without the guilt (or price tag.)
As the fashion industry becomes increasingly savvy with how it embraces the concept, the luxury watch sector is next to experience a boom in second-hand retailers. According to analysts at Berenberg, the market is currently worth US$25 billion, and is set to grow by 10 percent year-on-year.
"There's definitely a paradigm shift in the industry," explains Philipp Man, co-founder and chief executive of Chronext — an online marketplace for new and used luxury watches founded in 2013. "Watch brands, retailers and consumers have started to understand that pre-owned isn't just a small niche of the market — it's a long lasting part of the industry." Chronext, which in January raised US$34 million in funding, has grand plans to expand the profile and international footprint of the e-commerce platform, striking while the iron is hot, as it were.
Growth in the second-hand market can largely be attributed to Millennials and their increasingly ethics-driven shopping habits. According to a report by Thredup, a popular re-commerce site, the resale market is growing 24 times faster than traditional retail, with 77 percent of surveyed Millennials more likely than other generations to spend more on sustainable brands.
"Watches are the next big thing that we will own in a much more fluid fashion"
Second-hand goods are, of course, inherently sustainable in that they give new life to resources that are already made. Sustainability aside, Man believes that trading, rather than owning, is an attractive proposition for luxury consumers. "You don't have products for life anymore, so naturally that means you would trade in watches to buy new watches," he says. "I would expect the watch to come back in the next five years. People trade up, [their] tastes change and customers don't become attached for life anymore — watches are the next big thing that we will own in a much more fluid fashion."
While companies are tapping into the opportunities within the market, it's not without its challenges. Establishing consumer trust is still the biggest hurdle to overcome when selling high-value items online. "There is no formula to create trust. I know I'm trustworthy, but how do you know that?" asks Man.
"One of the best ways the accelerate the amount of trust is to create as many touch points as possible with the potential consumer — whether that is over email, phone or live chat. There are real experts behind [Chronext] who understand the product and have a passion for it, and that really helps," he says.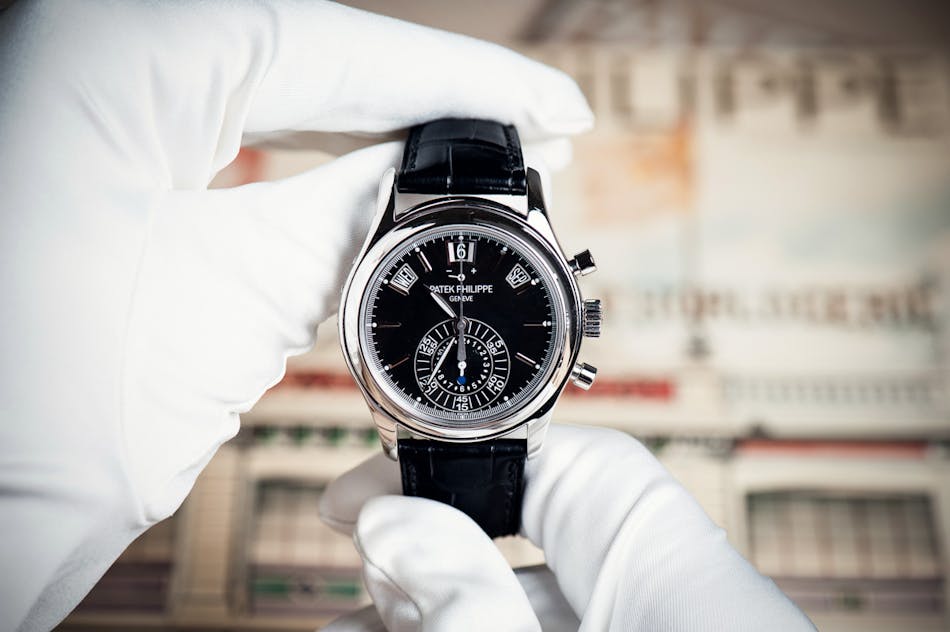 Established luxury players are starting to change their tune on the second-hand watch market. Traditionally, groups like LVMH and Richmont have avoided secondary "grey" markets — which were thought to dilute brand integrity — often buying back and destroying watches that would otherwise trickle into sites like these. But times are changing — grey market retailers are becoming increasingly sophisticated in their presentation and product offering — and the conglomerates are clearly intrigued, rather than threatened, by the new guard sector-disruptors like Chronext and WatchFinder.
In fact, in June, luxury conglomerate Richemont acquired London-based platform WatchFinder, while talk of a partnership between LVMH and Chronext arose in March. President of the LVMH watch division, Jean-Claude Biver said in an interview on Swiss programme, Eco Talk: "We aren't blind, we aren't critical to new ideas, on the contrary, they need to be analysed." Just last year, in an interview at Baselworld, Biver described grey market sites as the "industry's cancer."
Chronext, however, isn't looking to sell just yet. "At the moment, we're building Chronext as a company that is as strong as possible, independently," says Man. "We're open for discussion, but we're not looking to sell right now."
As the market expands, creating both online and brick-and-mortar touchpoints for consumers will be key to strengthening brand awareness, capturing the trust of consumers and providing the exceptional service that is part and parcel with luxury retail. Man puts it simply: "We just see it as getting the most relevant footprint for the consumer that is interested in watches, to create the most relaxed way to buy a timepiece."