Digest Design Workshop is one of China's best-kept fashion secrets. Since 2010, the independent brand specialises in slowly-crafted fashion, operating off-schedule to produce garments that embody deep cultural insights and hidden histories of a pre-technological age. Through practice we unlock true knowledge, says Dooling Jiang, the designer behind the research-led brand.
Jiang trained at London's Central Saint Martins and over the last decade has doggedly forged her own path within the local fashion scene. The designer is ritualistic when it comes to material development and research methodologies, using fabrics as the starting point to all her collections: "The fashion industry is more about following new trends. What I do is research. I believe that fashion design looks into the spirit of the times and tries to capture it." Her brand explores "the daily needs" of consumers and also examines how fashion can benefit the individual on a "deeper, spiritual level."
This sociological approach to garments has meant her concepts are often not easily translated into other markets. "In the past, some showrooms wanted to take my work to Paris and it would be nice to be known more outside of China but I don't think they will understand what I'm trying to convey." Regardless, it is clearly successful domestically, and she has now turned her hand to-brick-and-mortar to convey her vision: Digest 3kg, a physical store which Jiang recently opened with lifelong friend Lihsin Tsai, a former art gallerist. Located in Saliturn, the business district of Beijing, the duo have managed to find a creative haven surrounded by trees and nestled close to the German and Canadian embassies.
"We have this wonderful space with great adjacencies [there's a coffee shop and a bar nearby]. It's like the 798 art district with a really creative atmosphere," Tsai says excitedly. Part concept store, part gallery, the white space is dressed with cool slate and concrete slabs, while exposed brickwork, mirrors and sliding doors create a feeling of industrial chic. It currently sells Jiang's simplified designs exclusively - from deconstructed tailoring to newly added lines like homeware. They held a soft-opening over the Chinese New Year and to their own surprise are already "taking revenue."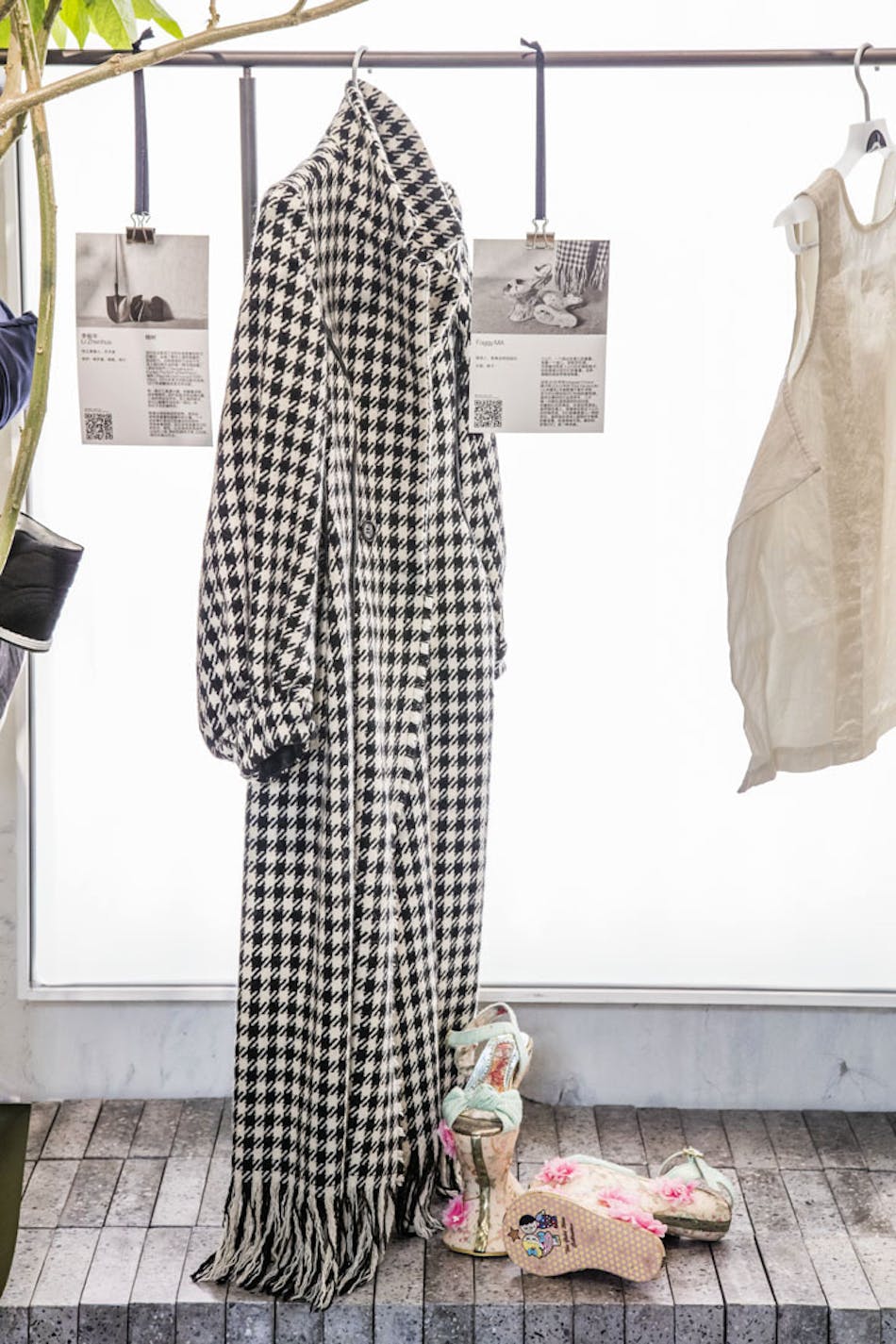 "In Shanghai, the fashion scene is quite glamorous but in Beijing we have a deep understanding of design. We want to build up a platform for active discussion and open up discussions. Yes, it's a commercial store for sales but we want to start conversations around culture in an accessible way," Tsai states. Design 3kg joins a number of experiential concept stores in Beijing such as Dong Liang and Triple-Major which have enlivened the city's retail sector to a stage where it may soon rival other top tier cities like Shanghai and Chengdu.
The store launched with the duo's inaugural project, an exhibition featuring artworks from an eclectic range of participants including artist Zhang Enli and Li Lin, founder of Hangzhou's fashion group, JNBY. It centered on responses to the question: 3kg; what is it, truly? "We wanted to curate something about daily life - so the participants are quite mixed, established artists and people working in the fields of architecture, media and so on," Jiang explains.
In light of the much-hyped economic slowdown on the mainland, Sophie Shi, a retail analyst based in Shanghai, is adamant the timing is perfect for new retail openings: "From the perspective of macroeconomics, it's definitely a good time for independent designers to open physical stores in China, especially in the first tier cities like Shanghai and Beijing. It's always a risk but the era of blindly chasing big brands is disappearing. Independent designers without investors need to work out their first bucket of gold that can support the brand's further development - Digest Design Workshop has already done this and has now expanded to include objects and lifestyle products."
The physical store experience in China continues to lag behind global retail standards and there is much to be learned from creatives who are pushing new boundaries. "The younger generation is keen to be expressive and is more willing to take risks and stand out," Shi concludes. "That's why, for one, we are seeing this boom in independent designers. Aligning the brand with artists and tastemakers in this way is very clever positioning. There are always brands who surprise - Digest Design Workshop is one of them."