The final leg of the International Woolmark Prize (IWP) touched down in New York on July 12, with Albus Lumen, Brandon Maxwell, Colovos and Willy Chavarria joining eight other labels as semi-finalists in the 2018/19 global competition. Chosen out of more than 300 entrants from 46 countries, the 12 brands will each receive AU$70,000 (£40,000) towards developing their businesses and a capsule collection, which will be shown in the final event for the IWP competition in February 2019.
Days earlier, in London, Daniel W. Fletcher, Edward Crutchley, Nicholas Daley and Cmmn Swdn were chosen as the UK's four nominations, decided by a panel which included fashion critic Tim Blanks, designer Roland Mouret, Dazed Media founder Jefferson Hack and Gert Jonkers, co-founder of Fantastic Man.
In New York, the panel comprised of CFDA chief executive Steven Kolb, Diet Prada co-founders Tony Liu and Lindsay Schuyler, Stefano Tonchi of W Magazine, CFDA chief executive Steven Kolb, and ORDRE co-founder and fashion director Kirsten Lock, among others.
The New York finalists, one Australian brand and three from the US, had unique methods of approaching their IWP collections, in which they were tasked with creating a capsule using Australian Merino wool. They will spend the next 7 months developing their final capsule collection of six looks ahead of the final next year. ORDRE meets the four finalists to learn more.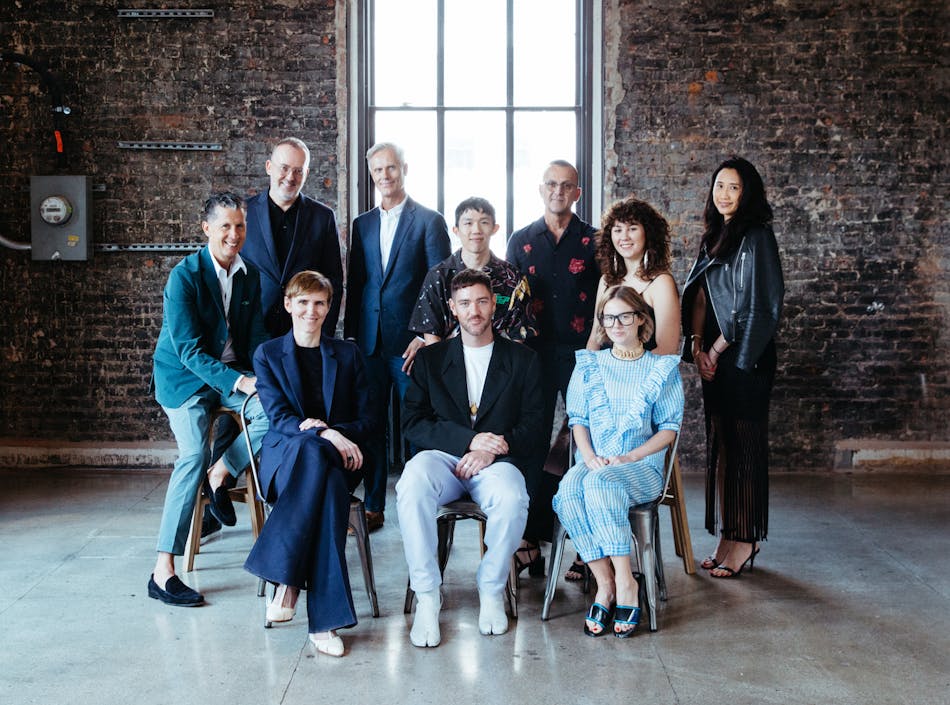 Albus Lumen (Australia)
Launched in 2016, Albus Lumen is considered one of Australia's most exciting emerging labels, helmed by former stylist Marina Afonina. Latin for "white light," Albus Lumen's relaxed simplicity and craftsmanship has won the label fans across the globe, as well as accolades including this year's BT Emerging Fashion Designer Award.
Staying true to the label's aesthetic, Albus Lumen's IWP collection "Para Interna" — which means "pure discovery" in Latin — was an all-white exploration of merino wool that sought to challenge misconceptions about the fibre. Focusing on texture, Afonina mixed wool with linen and silk, adorned with shell and pearl detailing, to create subtle contrasts in each garment.
The IWP prize allowed Afonina the opportunity to push the label's signature elements within the parameters of the competition. "It is extremely exciting to be taking Albus Lumen to the next level using Merino wool and new technologies," says Afonina, of the collection.
Brandon Maxwell (United States)
Brandon Maxwell, who launched his eponymous brand in 2015, has already won a variety of accolades for his modern take on American luxury. Maxwell won the 2016 CFDA Swarovski Award for Womenswear, and was named a finalist for the 2016 LVMH Prize. The support of high profiles celebrities, Michelle Obama, Oprah Winfrey and Lady Gaga, has undoubtedly also helped propel his young label.
For the IWP, Maxwell created a collection inspired by sailors, yatchers, golfers and country clubbers. A luxurious take on athleisure wear, the collection allowed him to experiment with materials and techniques that were previously unexplored by the designer. "Wool is not something I necessarily knew a lot about and that took months and months of studying about," said Maxwell after being named a semi-finalist. "We now get to do something in our company that we have been dreaming about."
Colovos (United States)
Colovos, launched in 2016 by husband and wife team Michael and Nicole Colovos, celebrates clean, architectural lines and quality craftsmanship. After running their first label, Habitual, a high end denim line, the couple went on to re-launch Helmut Lang, where they were co-creative directors for eight years.
For the IWP, Colovos was inspired by vintage tennis, archery and cycling uniforms and workwear. Looking back to a period before synthetic fibres were introduced to mainstream clothing manufacturing, the duo experimented with innovative weaving techniques and contemporary finishes that could mimic the look and feel of natural materials like denim, cotton and silk.
Willy Chavarria (United States)
Despite launching his self-titled brand in 2015, Willy Chavarria is no newcomer to the fashion industry. Having worked as a retailer and designer for more than 20 years — from Ralph Lauren to American Eagle Outfitters — Chavarria brings a strong understanding of design and business to his own label.
For the IWP, the designer was inspired by futurism to create a technically sophisticated and sustainably minded collection called "Futurismo." The garments pair innovation with a traditional Merino wool to create a bold workwear-meets-athletic wear capsule. "This collection is the story of the American experience," said Chavarria. "I see this as the present and the future, and I'm extremely honoured to win this prize."