In less than five years, the number of independent menswear designers on mainland has more than tripled. According to a recent report by Euromonitor International, menswear will start to outsell womenswear in two years time. With rumours of LFWM's demise often on the horizon, predictions confirm the need for such an event. This season, with an inspired relocation to London's east end, the compact 3-day event featured no shortage of touted local designer vicissitude (Craig Green, Charles Jeffrey, A Cold Wall* and Edward Crutchley). In addition, it also attracted a number of Chinese designers all undeniably breaking new ground both at home and globally: Pronounce, Private Policy, Xander Zhou, Danshan, Feng Chen Wang and newcomers C24H.
LFWM, however, is not without its issues: the schedule lacks any juggernaut brands and fails to attract the major industry figures; taking place the first weekend in January, it seemed more New Year afterthought than flag-waving fashion week kickoff. In addition, more brands showed what were increasingly gender fluid collections and womenswear than strictly menswear. Therefore, given the massive financial drain and additional logistical headaches for incomers, is LFWM the best format for Chinese designers showcasing new collections?
Well it seems so. China's latest cohort of menswear designers have all been educated abroad and are based overseas, from New York to LA and Milan to Amsterdam: all approach fashion from a globalised viewpoint and naturally gravitate towards London. According to China-based Ben Goodwin, Head of consumer and retail, China for the Department for International Trade, British government, the city is an invaluable playground for Chinese talent.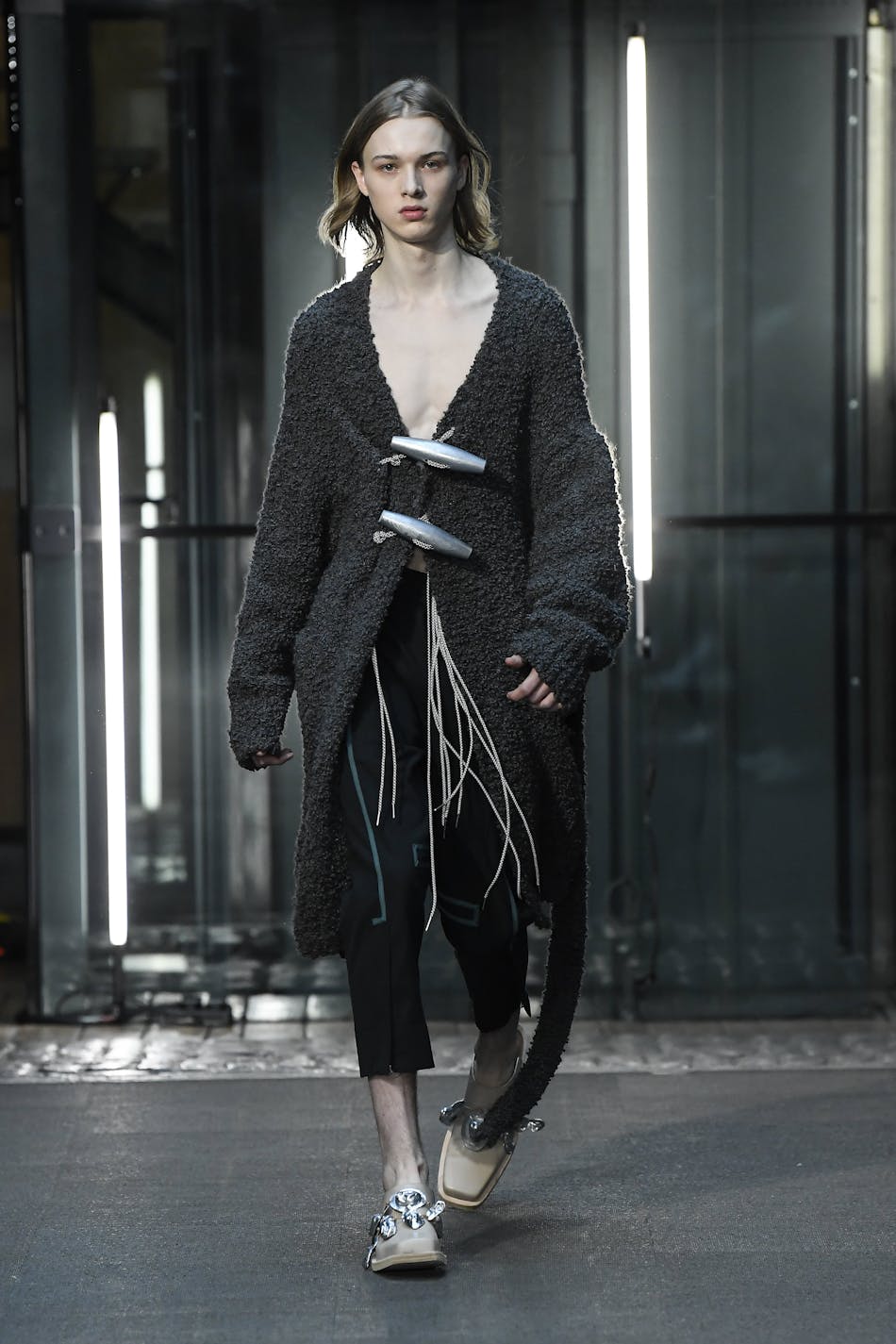 "The Chinese see London as a place of creativity and quality, particularly in fashion and retail," he explains. "Central Saint Martins (CSM) and London College of Fashion (LCF) are both held in extremely high regard amongst Chinese students looking to further their studies in fashion." Indeed half of the 12 participants at LCF's MA Menswear showcase were of Chinese descent, proof of the capital's superior educational draw.
"For us, it's like an emotional connection," says Jason Yushan from Pronounce. "Jun and I both have a UK educational background, so showing here in London during LFWM is such a big deal to us. It also pushes and drives us to new levels each season." This urge to progress means that collections from brands including Pronounce, Private Policy and Danshan show a technical ability far beyond their few years in the industry. Private Policy, a US-based genderless brand run by Chinese-born designers, won the GQ Presents Award for sponsorship to LFWM SS19 and AW19. Siying Qu, one half of the brand, is upbeat about the city: "The youthful vibe here in London is a good match for us. It's is quite different from New York, where we are based, so it's great to experience and communicate with a new audience."
China's menswear provocateur, Xander Zhou, now a regular on the schedule, presented his usual genre-defying collection with a diverse range of characters: from faux fur yeti creatures carrying dolls to leather-clad flippered sci-fi explorers. It was - by all accounts - a schedule highlight and an insight into his singular visual aesthetic. Fusing bionics, runway possibilities and design engineering, his futuristic 'man on prosthetics' should have stolen fashion week headlines. This collection inspired by "his fear," gave a unique insight into one of this generations' more intellectually stimulating designers: he has little to be afraid of - apart from lack of recognition at LFWM.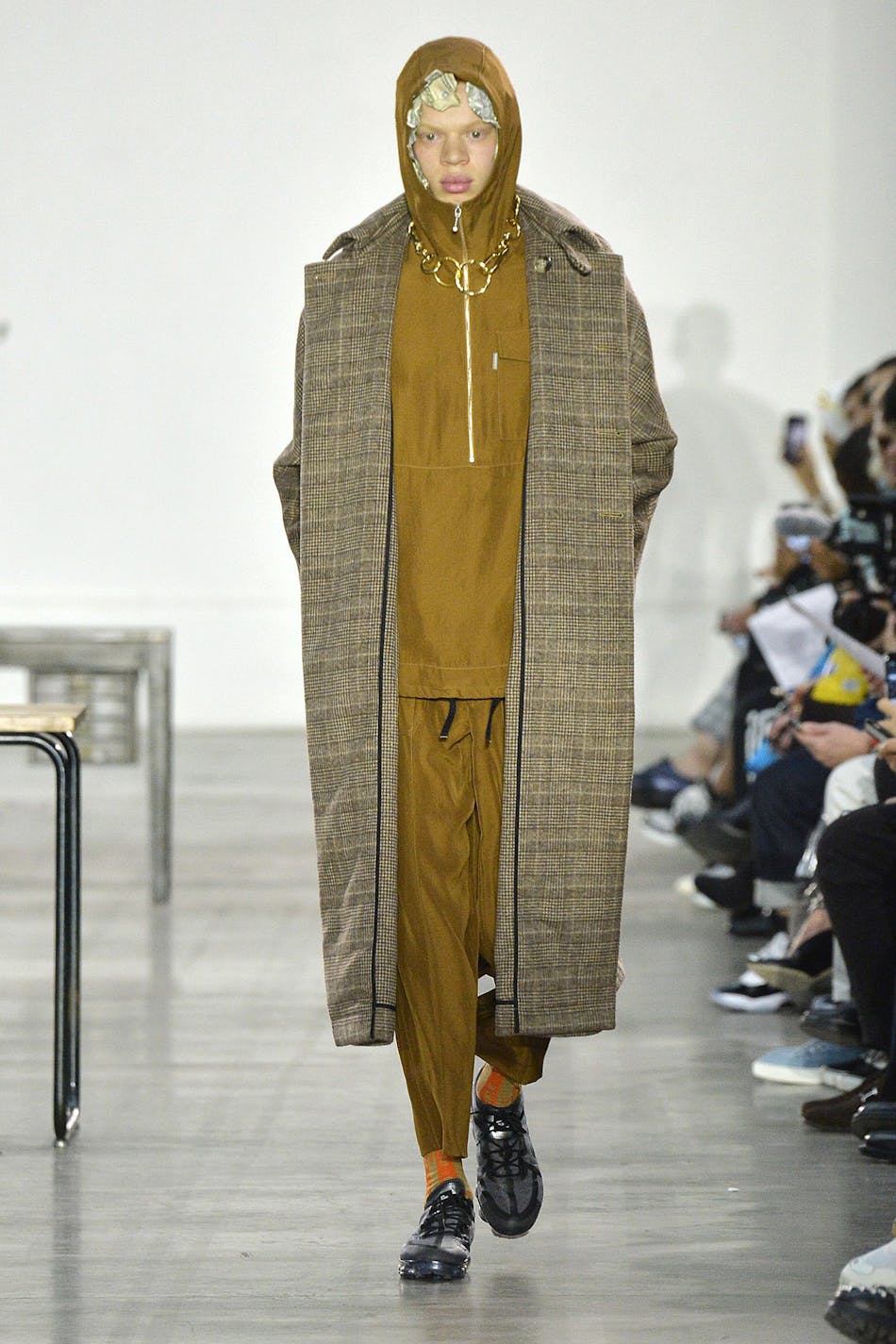 With an impressive Converse tie-in, London-based Feng Chenwang returned after a hiatus on schedule at New York Fashion Week. Her heartbreaking inspiration - China's one-child policy - was arresting yet a little uneven. She tapped the sense of family and community in an increasingly isolated world: blankets as coats and giant elongated scarves gave a nuanced sense of vulnerable exposure; particularly striking was a grey puffa joining two models together in a moment of introspective experimentation.
Despite the low turnout, buyers were in seats: LFWM drew attendees from local stores such as Selfridges, Harrods and MatchesFashion as well as global players like Dover Street Market, Hudson Bay and Bergdorf Goodman. Stavros Karelis, buyer for London-based concept store Machine-A, cited Zhou's collection as a favourite (the store is well known for its conceptual buy). According to Yushan: "We haven't met any buyers in person here yet but actually quite a lot of buyers do come to see our shows every season.. like Kubo from GR8 and also Machine-A."
Private Policy also hoped for more buyers but logistics dictated a quick exodus out of London for Pitti Uomo. "It seems everyone is on a tight show schedule and left London to Florence right after," Qu adds. "We wanted to meet with more buyers outside of the shows and showrooms but sometimes it's just very hard - especially before the brand is carried by the store."
Despite the rising importance of China globally, and the explosion of creative talent on the mainland, there remains a disconnect within the buying community which, for whatever reason, fails to accurately reflect this. The beauty of London's designers lies in the fact they are so deeply embedded in the city's world-renowned fashion ecosystem that they produce collections which perfectly speak to the tastemakers who are engineering the system. Together they curate the current cultural zeitgeist but for how long? Times are rapidly changing. LFWM's uncertain future could signal an opportunity for Shanghai Fashion Week.