As a fifth-generation retailer, Justin Machus knows a thing or two about running a multi-label store. Following eight years at the helm of surf-skatewear boutique Local35, he launched luxury destination Machus in 2011, in the hopes of shaking up Portland's retail scene. "I wanted Machus to be 100 percent menswear; something modern and progressive and the antithesis of what was available in Portland at the time, which was flooded with heritage-type Americana stores," he tells ORDRE.
Initially stocking avant-garde names like Rick Owens, he admits that Portland's widely conservative population were a little confused at first. But once he had a solid team in place, things began to take off: "We brought the right employees into the store, and we managed to carve out a niche for people who now expect uniqueness from us."
"We managed to carve out this really great niche for people who now expect uniqueness from us."
Justin Machus
Fast forward nine years and the retailer is thriving, with a fresh mix of emerging menswear brands from around the globe. "John Elliot is consistently one of my all-time favourite brands to work with," says Machus. "We have a great relationship with them, and they have constant small deliveries, which is really fun for the customer."
He adds that Japanese designers are some of their best sell-throughs, particularly punk-inflected streetwear stalwart Undercover, and graphic casualwear brand Cav Empt. "Japanese designers are masters at what they do and are store staples. Every season Undercover and Cav Empt have more and more fans," he states.
Interestingly, since dabbling in mid-range brands like Texas-based, Dickies-equivalent Stan Ray, he reveals that sales have improved, with customers often opting to mix and match their purchases. "Stan Ray have been doing so well for us, and it's refreshing to bring that kind of price point to the store. They have affordable jeans for USD$75, and customers tend to pair them with higher priced items like silk printed shirts from The Ziran."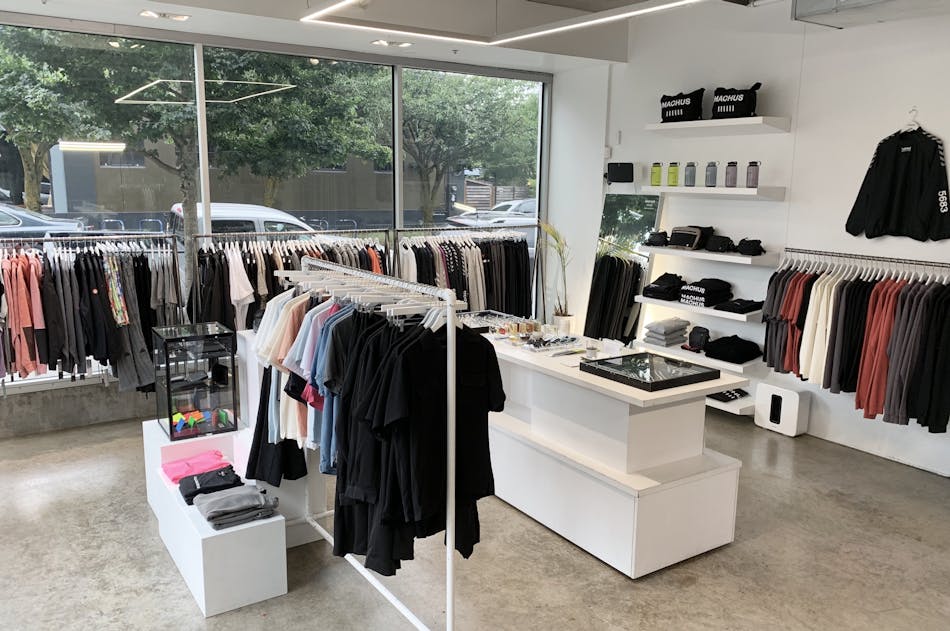 When asked about his latest picks from men's fashion week, Machus is hesitant, divulging that for the first time in a while, he skipped Paris this season in a bid to boycott streetwear's exploding 'hype'. "The 'hyped' streetwear fashion world is so difficult to navigate," he explains. "Everyone is excited to get their hands on hyped products the day they feature on the runway, and I end up making huge orders. But six months down the line when the brand finally arrives in store, no one cares anymore – it's crazy how fast the industry works now."
In response to this shift, Machus says that he's contemplating reevaluating his brand mix to include more classic, non-hype-driven labels. "I want to step back and rethink my strategy, and develop our selection to include more US and Canadian-based designers," he says. "So far I've found all these new great brands that no one works with on a large scale yet."
"We're lucky enough to have positioned ourselves at the forefront of the luxury streetwear scene in Portland."
Justin Machus
Machus will also attend Seoul Fashion Week for the first time in October, in search for unconventional talent. And while it may seem risky to move away from the commerciality of hyped luxury, the founder is optimistic about his instinctual decision, trusting it will deliver a more consistent brand experience. "People expect us to take risks, and they expect us to have something they've never heard of or the next big thing," he says, adding, "we're lucky enough to have positioned ourselves at the forefront of the luxury streetwear scene in Portland, and I'm still able to buy as progressive as I want."
In terms of expansion, Machus is apathetic, explaining he has "zero interest in expanding into a different space" or "opening doors in every city." He teases that in the long run, he may dip into the luxury womenswear market, but for now, he's content with the direction of the store: "My wife and I are in this business together, and we're playing the long game. We have a really cool little thing going, and we are enjoying everything where it is right now."