The British Fashion Council's NEWGEN scheme is a transformative moment for any young designer, contributing to their evolution into a recognised brand. The initiative offers financial support, business mentoring and a showroom in Paris, and boasts an alumni of spearheading talent from Alexander McQueen to J.W. Anderson. Judged by industry experts, the most recent additions announced are: Ahluwalia Studio, Art School, Asai, Bethany Williams, Bianca Saunders, paria \Farzaneh, Roker and Stefan Cooke - who join the flourishing NEWGEN family of 11 which includes ORDRE names Charles Jeffrey, Supriya Lele, Nicholas Daley, Alighieri and Per Götesson.
As always, NEWGEN's latest talent is generating a refreshing air of possibility, ready to disrupt and progress the fashion industry. Costanza Lombardi, buyer at Browns, tells ORDRE, "One of the most interesting aspects of fashion nowadays is the merging of cultures - designers and customers live and breathe a global aesthetic." This could not be more fitting to 2019 NEWGENs ASAI, paria\ Farzaneh and Ahluwalia Studio, each tapping into zeitgeisty desires and exemplifying how to achieve visionary cross-cultural fashion design - cultural appropriation continues to dog even the largest luxury fashion houses, especially as diversity is frequently critiqued as a selling strategy.
Of their appeal, Lombardi continues, "The emerging designers show talent in the purest form, so as well as looking for opportunity, we also draw on our gut feeling at how as a business we can platform these brands and educate our customers on them." Of course, investing in new talent can be risky but profit isn't always top priority. "Sales are important for both established designers and emerging ones. Obviously they have different targets but the aim is to invest and improve the businesses of emerging designers to make them successful as soon as possible," Lombardi adds. Browns has already snapped up both ASAI and paria \Farzaneh - here, ORDRE spotlights these designers, alongside fellow NEWGEN Ahluwalia Studio; all beautifully celebrating multiculturalism by marrying their diverse heritages through fashion design.
ASAI [womenswear]
It came as no surprise when womenswear designer A sai Ta (ASAI) was announced for NEWGEN, after a successful trio of collections with Fashion East followed by a stunning neutral-palette solo show for AW19. Hailing from South London with a Vietnamese mother and a Chinese father, the Central Saint Martins graduate often describes his work as depicting Asian culture from a Western perspective - he even delivers his clothes in Chinese takeout boxes (probably one of the most British points of contact to eastern culture). A sai Ta's love for celebrating diverse nationalities even goes beyond his own heritage as last month he showed at Nigeria's Arise Fashion Week in Lagos.
A sai Ta is responsible for that viral Hot Wok Top worn by it-girl millennials from Jorja Smith to Jordyn Woods. Those tie-dye designs bordered with horizontal and vertical frills in his signature mismatched mesh quite literally channel his own culture clash of identity. ASAI is experimental, authentic and a golden product of British, Vietnamese and Chinese influence.
UK Stockists: Dover Street Market London, Browns, LN-CC, SSENSE, MACHINE A
International Stockists: Joyce Hong Kong, Opening Ceremony Japan, Opening Ceremony New York
paria \Farzaneh [menswear]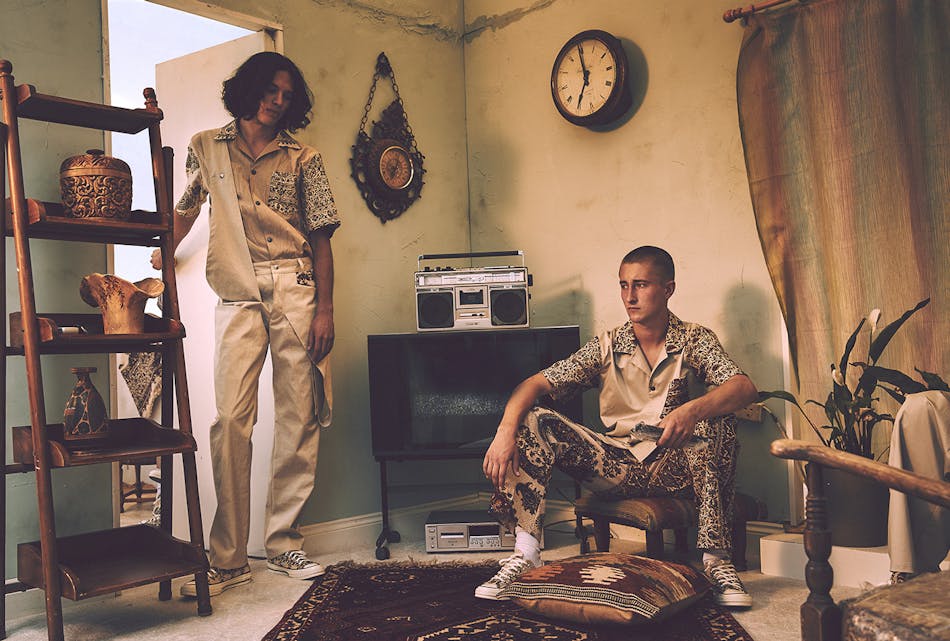 As a BFC one to watch, paria \Farzaneh had an exciting 2018 and has already cemented a strong following of hypebeasts since her first menswear AW18 collection - collaborating with converse and dressing stars like South Korea's BTS. Devon-born Paria lived in Hull before attending Ravensborne in 2016, but her designs are predominantly infused with her parents' Persian heritage. Thus, the beauty of Iranian culture is a defining feature of her brand identity, focusing on subverting how it is represented as a minority in the British media.
Paria's familial inspiration runs right down to her fabrics as every print is done by hand and made in Isfahan, Iran. The brand's originality lies in how personal each collection is, from Paria using the material of her grandmother's table in Iran for her AW18 collection to frequent posting of her Iranian family photos on the brand's Instagram, like her mother's wedding ceremony spread. All of these Iranian influences are merged with British streetwear, crafting the perfect execution of cross-cultural collaboration.
UK Stockists: Browns, LN-CC, Farfetch, FWRD, SSENSE
International Stockists: Addicted Seoul, FRWRD LA, Idea Tokyo, Opening Ceremony NYC, Printemps Paris.
Ahluwalia Studio [menswear]
Ever since her debut SS19 show, Priya Ahluwalia has been impressing the industry. Her vibrant upcycled garments have won her the prestigious H&M Design Award for 2019 and most recently selection for the Adidas Maker Lab project in January this year. The University of Westminster graduate sources fabrics from second-hand clothes and merchants who deal vast quantities of materials to combat fashion's major overconsumption problem - something Priya learnt from her Nigerian-Indian heritage of use everything and waste nothing.
Along with inspiring her ethical ethos, Priya's Nigerian-Indian background oozes from her designs, with rainbow colour palettes, experimental masculinity and a signature retro aesthetic - all also naturally embodying a very British sports luxe vibe (she was born in South London). And to top off Ahluwalia Studio's innovative creativity, every single piece is unique; that's the charm of using recycled fabrics. Fittingly, Priya was another designer who had the opportunity to be at Aries fashion week in Lagos, showcasing a stunning result of multicultural Britain.
Stockists: LN-CC, SSENSE, Opening Ceremony Japan, Opening Ceremony NYC
Suggested Reading
Buyer Intelligence: Emerging Designers Showrooms Now Open